Introduction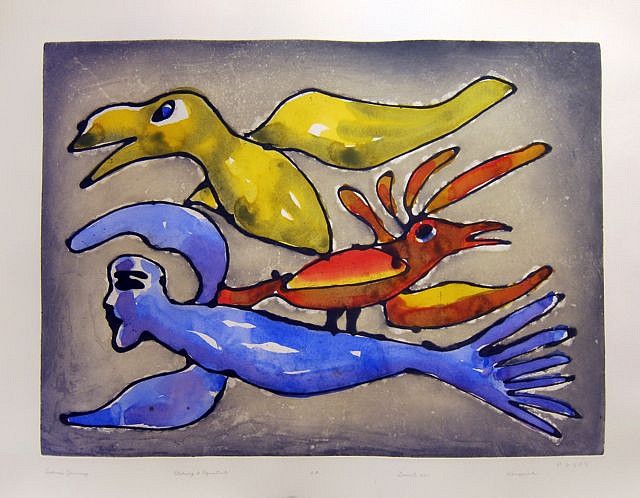 To see the Inuit graphics and textiles in stock, click on the WORKS tab.
At midcentury, approximately 20,000 Inuit were semi-nomadic hunter-gatherers, struggling to survive on the rim of the Arctic Ocean. A chance encounter led to an artistic explosion, which has produced stunningly sophisticated sculptures and graphics. Over the next fifteen years, the Inuit moved to permanent settlements, and art emerged as an important element in Inuit society. After stone carving was firmly established, the Inuit were introduced to other media, and they produced powerful graphics in the form of prints and textile works.
Cape Dorset has pubished an annual collection of limited-edition prints for more than fifty years. The early Cape Dorset prints were stonecuts and stencils (and some prints included elements of both stonecut and stencil). The Cape Dorset print shop has expanded its capacity to include etchings and lithographs as well. For many years, the Cape Dorset collections were anchored by Kenojuak Ashevak, Kananginak Pootoogook, Lukta Qiatsuk, Parr and Pudlo Pudlat. Baker Lake prints featured strong images by Jesse Oonark and Simon Tookoomie. Joe Talirunili and Davidaluk Alasua Ammitu developed a distinctive style in Povungnituk. Prints from Holman and Pangnirtung have appeared intermittently.
Baker Lake has also produced striking wallhangings, generally combining applique and embroidery. Pangnirtung established a successful tapestry workshop, which releases limited edition tapestries each year.
To see the Inuit graphics and textiles in stock, click on the WORKS tab.
About Inuit Graphics and Textiles (PDF)